Seeing Pamukkale's cotton clouds was something on my bucket list – but when I saw it IRL I was frankly pretty disappointed. Before dozens more have their dreams dashed, thought I'd share my experience to realign expectations.
This was what I had in mind while I was in Singapore, dreaming about cotton castles in Turkey: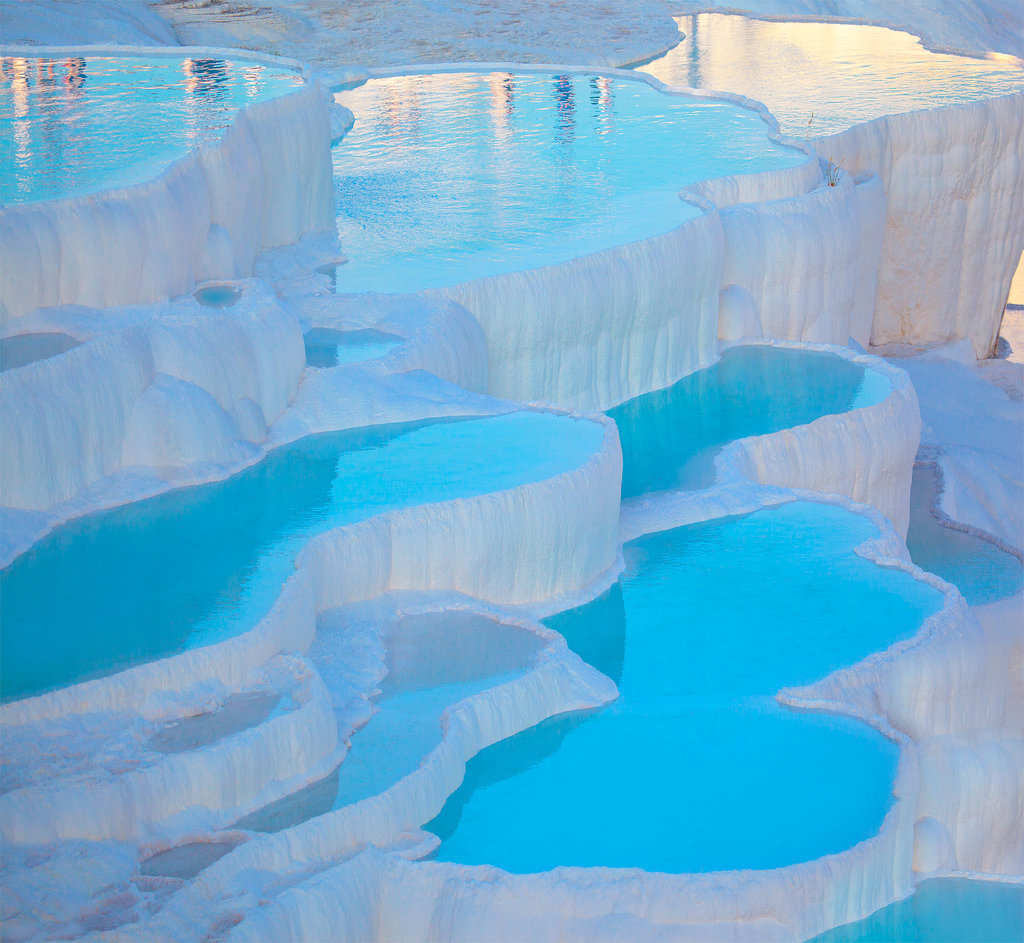 I really didn't know what to expect but I imagined Pamukkale to be a big white stretch of staggered steps of blue pools… Pamukkale is essentially about 2,700 metres (8,860 ft) long, 600 m (1,970 ft) wide and 160 m (525 ft) high.
We paid for a day tour at Pamukkale, and unfortunately had a really really bad tour guide who zoomed past the ancient city of Hierapolis, dropped some flippant explanations of some things, and then dropped the entire group at the travertines for fifteen minutes.
While that wasn't enough time for some members of our group to have a proper soak, the entire place was teeming with tourists.
As if that wasn't bad enough, I don't know if it was because we were there at the wrong time of the year or day, or that tourism had taken its toll on the place, but the cotton clouds were far from white:
The only portion of Pamukkale that made for a good shot was one that was cordoned off. Still, there wasn't much of the mineral rich pastel-blue water that I expected.
As disappointed as we were… we thought we should still snap some shots
(look at that moss!!!)
So yes. This is Pamukkale by day – honestly, a let down. Couple that with a really bad tour and a series of unfortunate events, you get 3 really cranky girls.
We had a bit more time left after the tour, so I'd told the girls I would love to return to catch the cotton clouds at sunset. We paid about 20 Lira (again) to enter at about 6pm but it was well worth it… and so much more pleasant, even a little bit more magical.
We had our very own private "bathing pool" – there were very few people on the travertines at that time, less than 20?
One thing to note – there's nowhere you can store your stuff while you're soaking in the travertines! We resorted to piling our stuff in a heap.
So we had a good 45 minutes or so of soaking up the mineral goodness of the hot springs, benefitting from its alleged healing properties (smoot smoot skeeeen)… with a perfect view of the sunset.
And then, our day wasn't so bad after all.
I'd recommend visiting Pamukkale in the evening. If you could get a tour that would walk  you through the Hieropolis ruins, take a peek at the theatre and Cleopatra's bath, then end it off a the cotton castles and somehow be able to stay till sunset that would be perfect.
All photos taken with the HTC M8